Hello Everyone,
If you're reading this, you must be warned ahead of time, I am NOT a stance guy. I am creating this thread for anyone who would like to build a budget streetable/track car.
Although this is my first time posting to the forum I feel as though I have enough knowledge to spead, of building a budget track car. I previously did this to a 91' DA9 that I never posted to the forum with much regret.
The DA9 is long gone along with the B17A1 OBD0 GSR that I had gotten for it. The one thing I learned about that car is fake parts WILL RUIN YOU! Always get real parts, used real parts are ALWAYS better then brand new china craps. You will never see any reps of any kind on my cars.
Anyways, I had NO money when I got this car, my budget to spend on a car was $1500.00 and I got this car for $1000. Things wrong with it were all cosmetic, broken tailight, cracked plastic cover for the speedometer, and cracked plastic above the door handle along the window. The next morning after purchase I went to Addladin Bros. Junkyard (818 Local u-pick-u-pull) spent $100 on all the above.
We are lucky enough to have an unequal length double wishbone suspension on the front and rear of our EFs (and all other 88-00 civics and 90-01 integras). It consists of, basically, an arm on the bottom connecting the bottom of the chassis to the bottom of the steering knuckle, and a shorter arm on top, connecting the top of the knuckle to some portion of the chassis above the lower control arm mount. This type of suspension is regarded as the best type of suspension to have for racing (not drag racing) because of the camber gain characteristics. If you've ever lowered a Honda, you know that the lower it goes the more negative camber there is. Its like that for a reason.
With that being said first things first, suspension. I haven't had much track seat time, but I drive canyons every night and you'd rather have a slow car that's very stable and can break easy, and after you stablize it you can then go about adding that HP. Number 1 issue that is a constent battle is understeer and weight distrabution.
Wider wheels make for wider tires, wider tires make for more traction, more traction more speed, Buddy Club P1 Racing Wheels 16x7.5 bought off craigslist for $500 with tires at 85% tread life left in them
So I was looking at some progress technology coilsovers when i noticed something, my car was at stock height... But not on stock struts?! Take a closer look and they are Tokico Blues, I got happy knowing I had good struts, non of them were leaking alothough looking aged. So I got on craigslist and got some D2 lowering springs that came off a 94' civic and put them on my car for $60, which lowered it about 1 inch. Didn't lower very much, but they are a way stiffer spring then the stock ones which in turn helped with the rigidity of the body roll.
This car is so much fun! I'm so happy with it, keeps up with my friends in their subarus thru the canyon and I've driven it everywhere. 200K miles still running strong.
Anyways the guy that had the lowering springs I purchased also had some other CRX/Civc Si parts that he was willing to let go; MPFI Swap! YUUUUUPPPPP!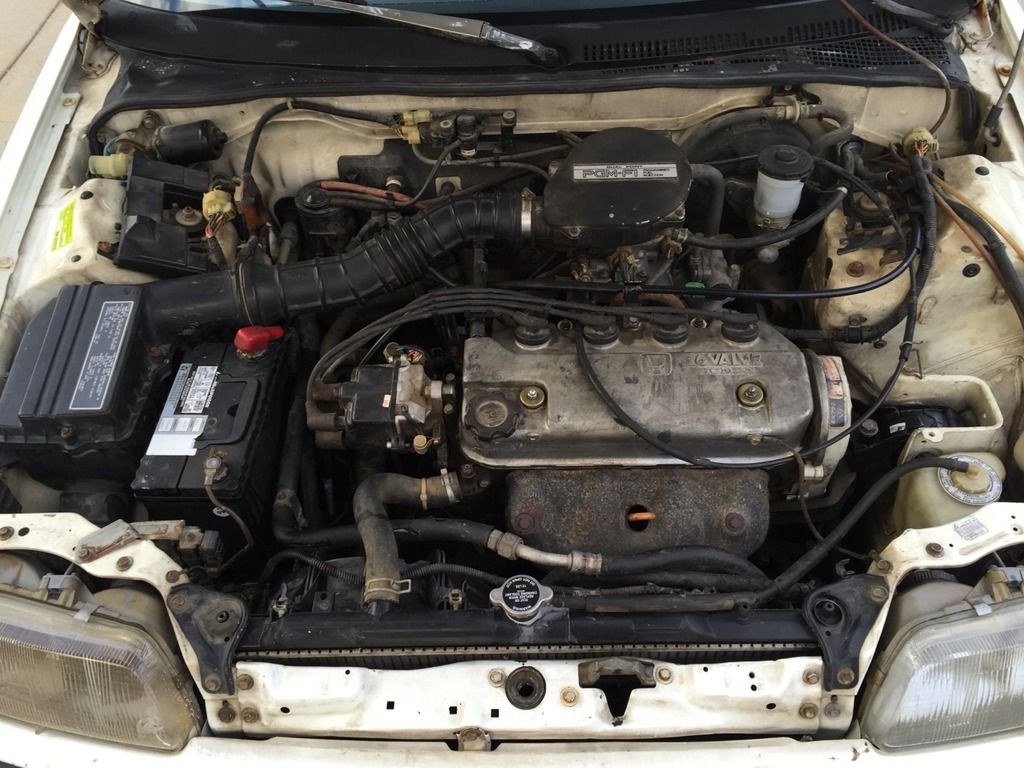 Allow me to translate what a MPFI (Multi Port Fuel Injection) Swap means in idiot terms(the way I understand it) Right now I have 2 injectors that are spraying fuel into the intake manifold making a air/fuel mixture before going into the pistion (dual point fuel injection) to create the explosion, and so I am going to replace the entire intake manifold, throttle body, and throttle cable with the those of the CRX Si.
What are the benefits of MPFI swapping your DPFI Civic/CRX? A couple reasons, better fuel flow, MORE MPGs, and more power!
What components do you need for a complete MPFI Swap? That's the easy part!
1. You will need CRX/Civic HF or Si intake manifold (4 injectors) with, throttle body, throttle cable, MAP sensor, fuel rail, fuel injectors, injector plugs (full intake manifold seen below)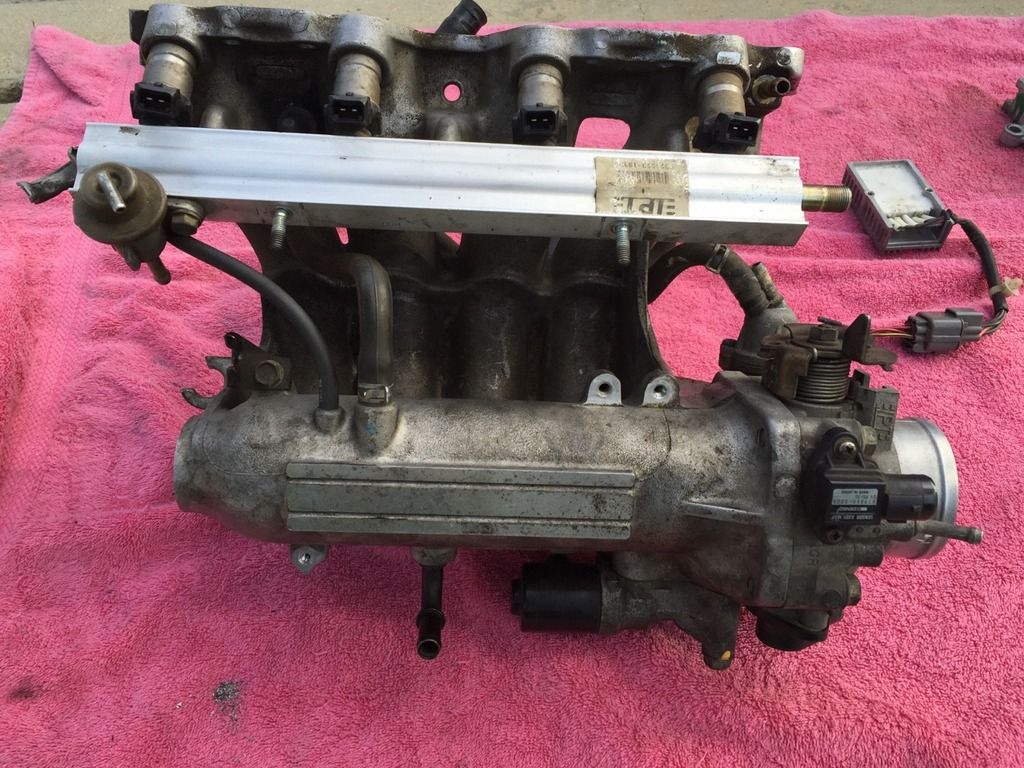 2. Resistor box. Basically this is how you make enough wires to wire in your 2 "extra" injectors.
3. PM6 ECU. Since I will be staying OBD0, I got this ECU from a 1989 Civic Si which was also OBD0. This makes life alot easier, if you decided to go OBD1 you're going to have to repin the ECU or utilize a ECU jumper harness.
You will also need a new intake manifold gasket and I'm probably missing something but someone will correct me or I will correct myself as I proceed with this process.
I will come back to the MPFI swap once I start on the install of the swap. Something else caught my attention while I was canyon running the other day. It is becoming harder to find the right gear, it felt like there was alot of slop in the shift linkage so I spoke to my good friend Matt of
M's JDM Motors
about the issues I was having. He then began showing me the product he had started to develop; Dimes Performance Aluminum Shifter Bushings, a 2 piece design, made in USA, very good quailty machine work that I had no idea Matt even possessed. So he sold me on them... And let me say, I still have yet to miss a gear and shifting is instant! Amazing how something so little can make such a huge difference.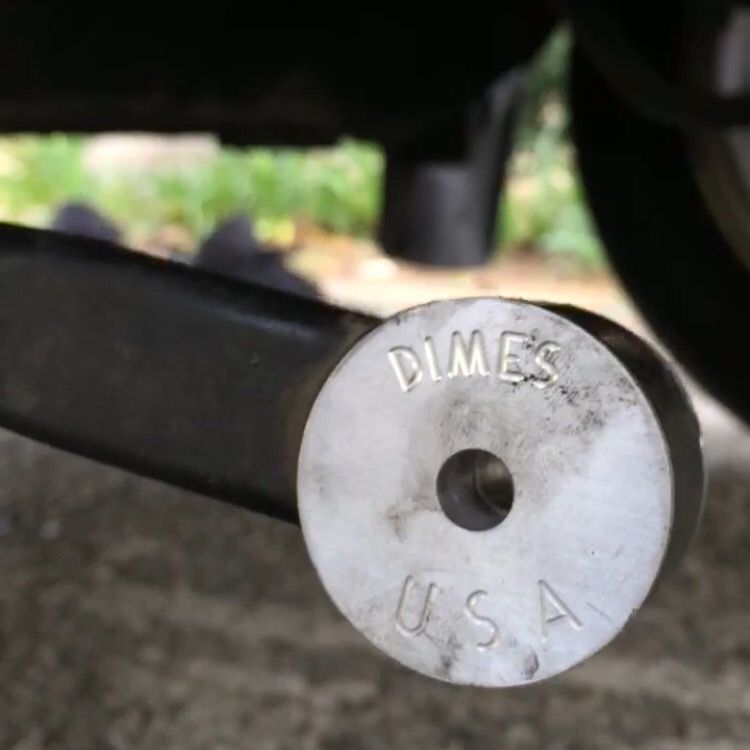 If anyone has any questions or advice please feel free to ask it or give it. Keep in mind there is still a lot of work to do on this car such as ALL the bushings, upper ball joints, lower tie rods, rear disk brake conversion, but like any budget, it takes time to make it.
Thank you so much for reading and have a great day.