Plastic Headlight Restoration
Okay it's finally here. The passenger headlight assembly was busted on my 98 EX so we pulled the front off and I buffed the other side to match the new one. I've done this so many times its like clockwork and hopefully it will all make sense to you when its over.
Since I had to remove the bumper to replace the other side, I thought it was a good idea to remove the one I was buffing for easier access with sanding and buffing. If you want, you can do the same because this is easier- you don't have to worry about taping up the surrounding areas which are painted.
**IF YOU DON'T REMOVE THE HEADLIGHTS, YOU MUST TAPE OFF ABOUT 4" AROUND THEM TO PREVENT DAMAGE TO YOUR PAINT JOB WHILE WETSANDING AND BUFFING**
Here's a couple pictures of my headlight before I buffed it. Its not too bad but it definitely needed to be done.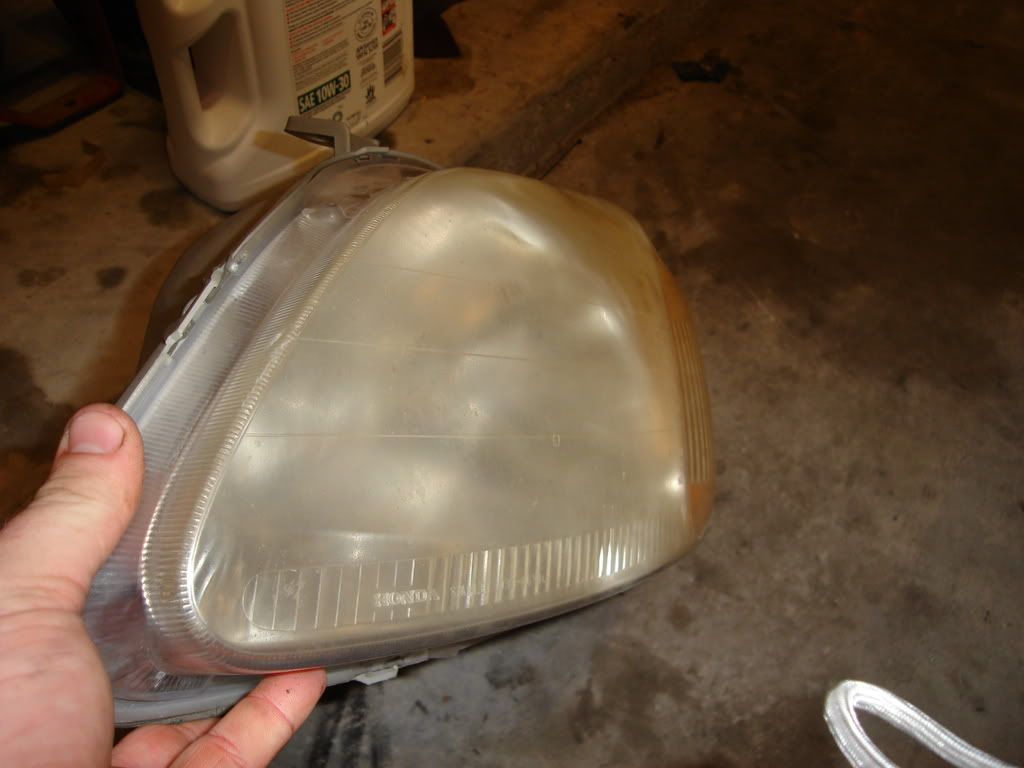 Next we'll talk about what else you need besides an oxidized plastic headlight and tape.
Here's a couple pics of everything you need to perform this service on a headlight(Mountain Dew not requred but it always helps me out):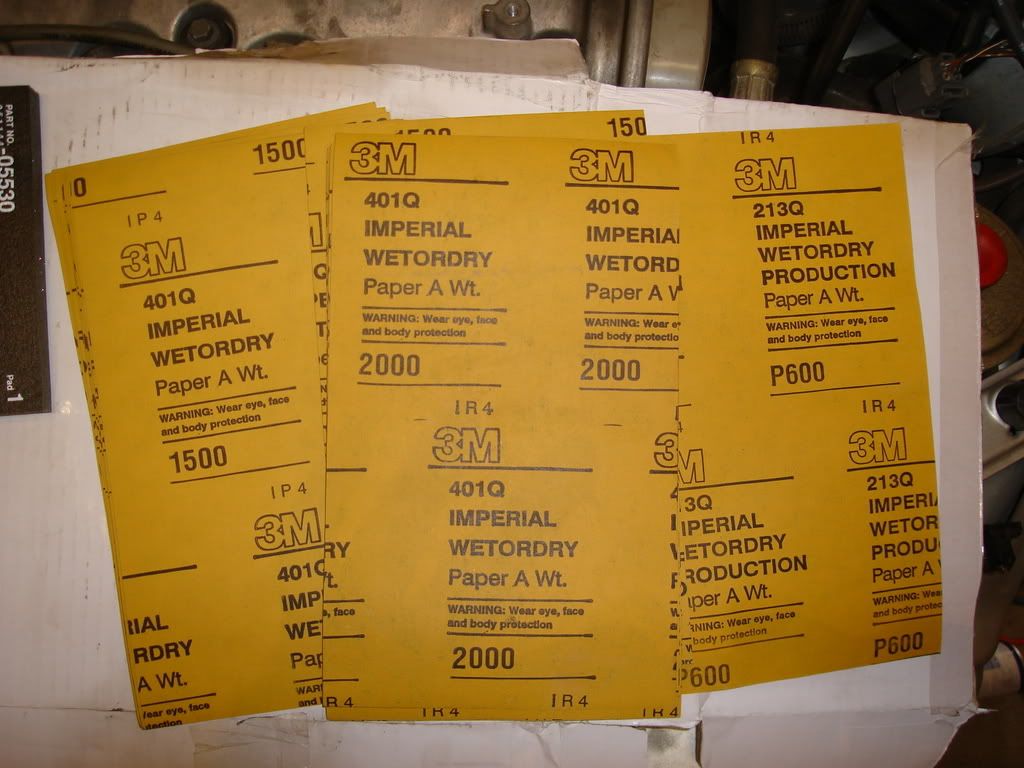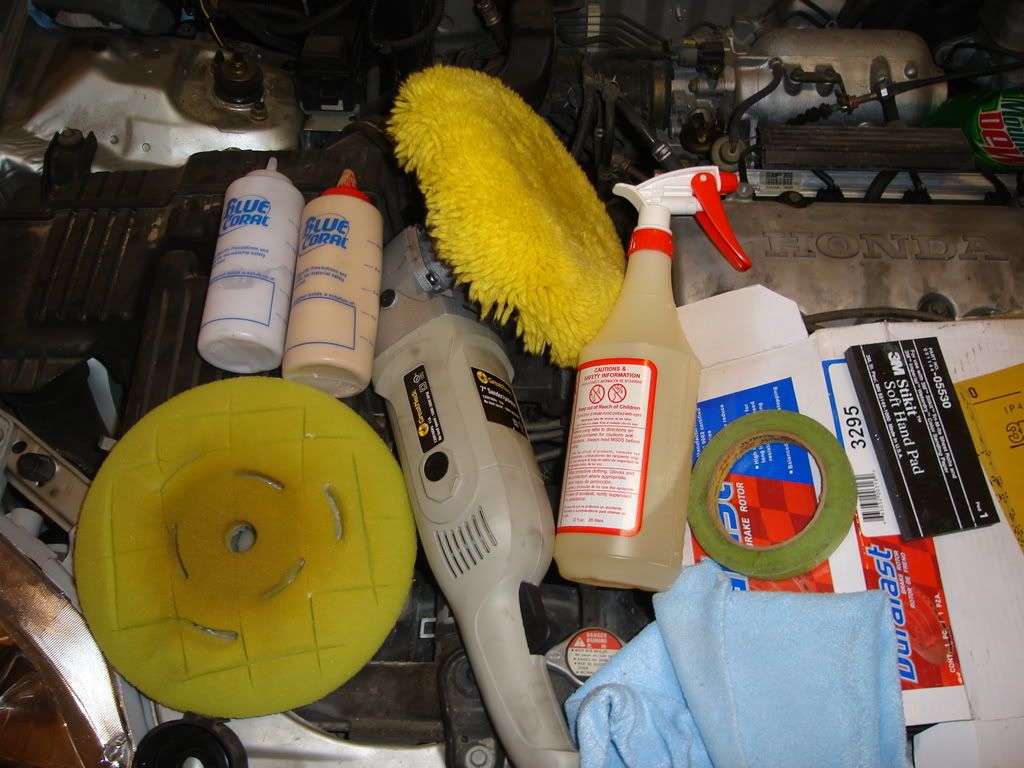 Things you need:
1. Tape. I already mentioned why and this is the only reason you need it.
2. Wetsanidng paper. I usually use 600, 1500, and 2000 grit. You'll see why.
3. 3M Stick it pad for sanding. This keeps your fingers from gouging the plastic with the sandpaper.
4. Industrial squirt bottle full of very diluted soapy water. Use this for cleaning/keeping sandpaper wet during the sanding process.
5. Buffer, buffing pads and buffing compounds. I'll cover this more specifically when I get to it.
Please read before you start sanding: If you are performing this on any headlight that is made by a high-end car manufacturer, it may have a UV protective coating that SANDING WILL DAMAGE. Most of the time this coating is colored. Please check with your OEM parts dealer to verify that it does not have one of thse coatings because you'll be really pissed off at yourself if it does.
SANDING PROCESS
Start with your 600 grit and get it as wet as possible along with spraying down the headlight before you start sanding. If your headlight is worse than mine, you could use 400 grit but I urge you to be patient; 600 grit will take out any imperfection in plastic very quickly and moving down in grit could permenantly damage the headlight.
Here's what you'll see when you start sanding. All the oxidized plastic is getting chewed up by the sandpaper and the water will turn a milky yellow color and start running off.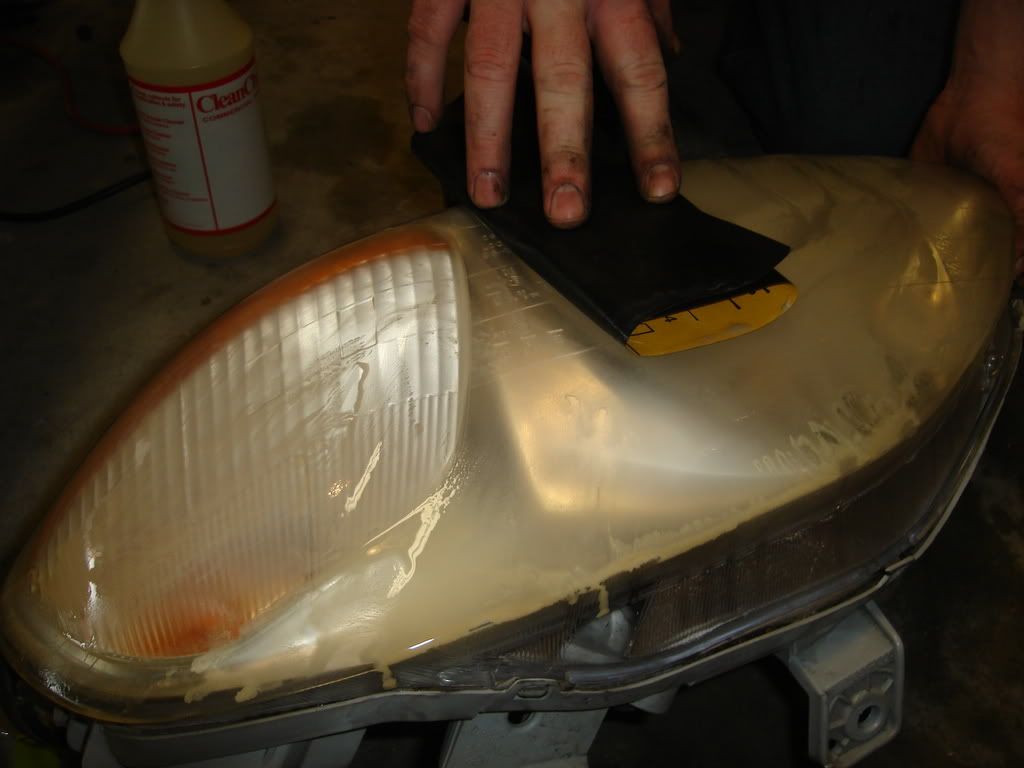 Don't get too crazy with the 600. I use very lightly to get things broken down and get the hard imperfections removed.
Here's what it should look like after 600: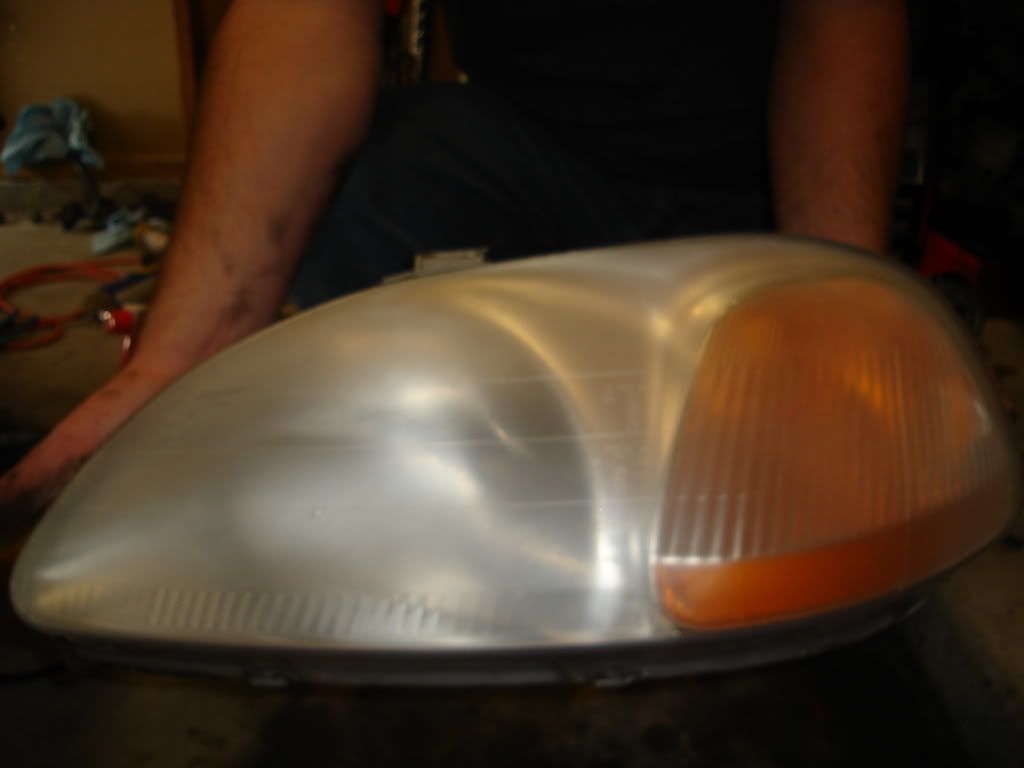 Do the same with 1500 but stop every once in a while to make sure that you're sanding as evenly as possible. Sand with 1500 until the water coming off the headlight doesn't have any yellow in it what so ever. Also make sure that the deeper scratches from the 600 grit are completely removed.
It should look like this: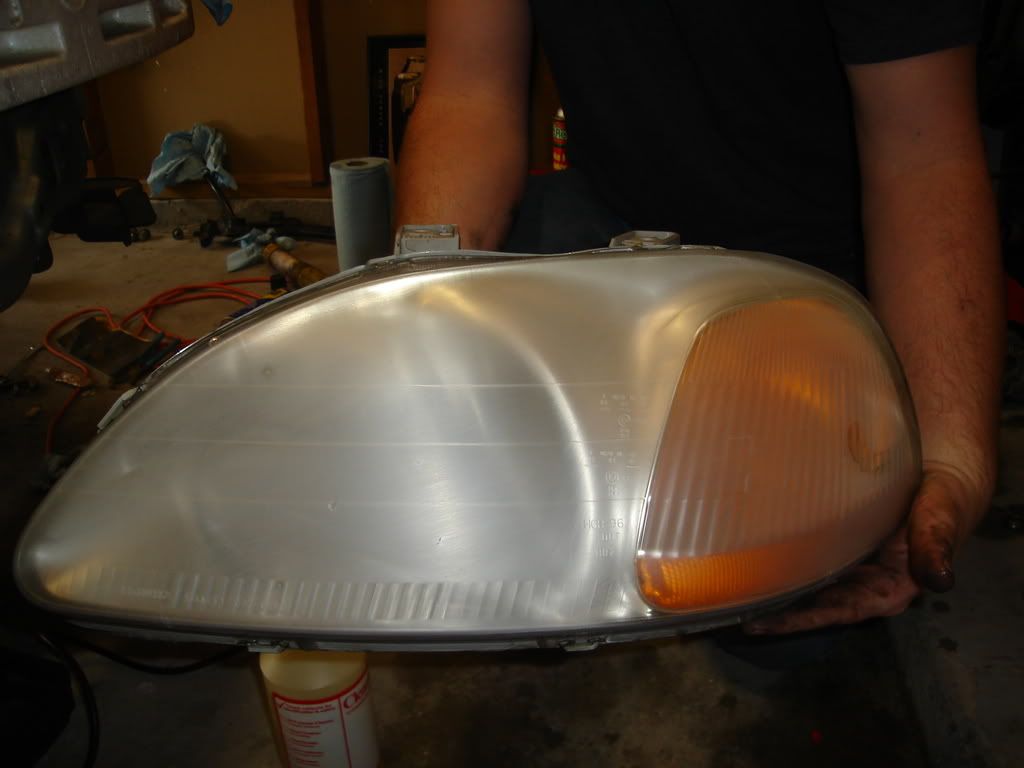 See how it is clearer than the post-600 grit photo? This is a good thing.
With the 2000 grit you can sand as much as you want. There really isn't any way you'll damage the headlight with 2k grit unless you're trying to. The only reason I use sandpaper this fine is to prep it for buffing and remove the wetsanding marks from 1500. Remember throughout your sanding process to use plenty of water and keep your sanding surface and paper clean. Otherwise, the tiny pieces of plastic will get caught in the sandpaper and turn 1500 grit into 800 grit and so on.
After 2000 grit sanding: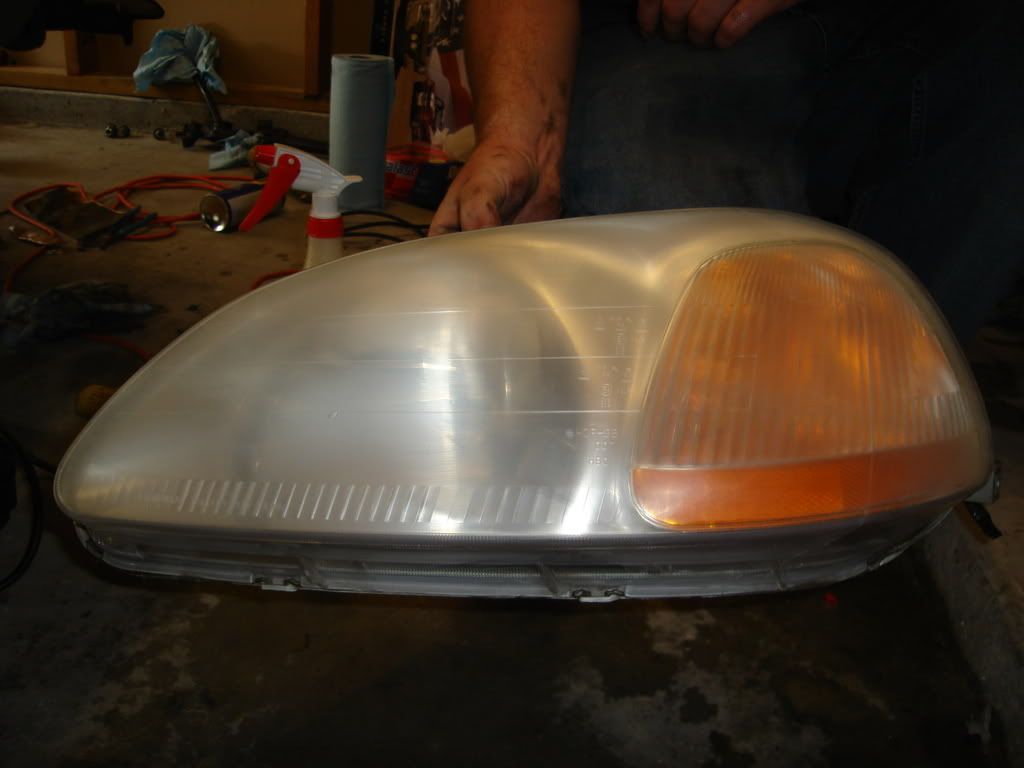 Here's the hard part. Any child with half a brain can sand imperfections out of a headlight. It take someone with common sense to buff it. For this project I used my $50 'small-task' Autozone buffer and left my DeWalt at work. So this project is cheaper than buying two new headlights any way you cut it. Since it was removed from the vehicle, the headlight needs to be held in place by a friend because I've had bad luck with a vice.
You'll need two buffing pads. The ones I used were from Blue Coral and they're pretty darn cheap and easy to find. The compounds I used were Blue Coral too and they've never let me down.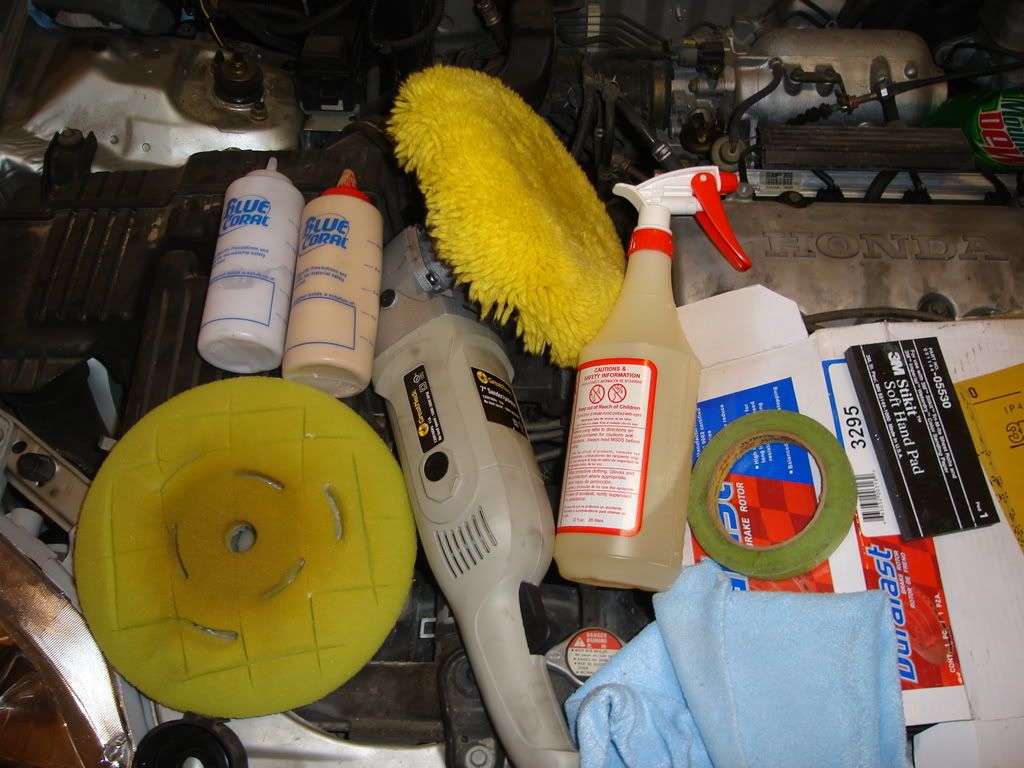 The buffing pad already attached to the buffer is a wool pad. We use it first because it has a better 'cutting' ability and gets things moving very quickly.
The green foam pad is a polisher and makes the plastic a lot clearer and very shiny. This second step is what makes old plastic look new.
I have two compounds I use. Compounds are like liquid sandpaper and much finer than anything you can find on a shelf. They break down with heat and polish their own sanding marks out before they dry up. The blue one is called 'Blue Coral Quck Cut' and we use it first because it is more coarse and is better for initially removing sanding marks.
The brown one is an ultra-fine polish called 'Blue Coral Velvet Cut' and we use it with the foam pad.
You understand the 'what' and the 'why' so lets dive into the 'how'. I made three videos doing a demo on buffing this headlight and the link is below. This is much better, in my mind at least, than trying to tell you how to do it. I figured I'd show you. Excuse the fact that its a little sloppy. Totally amatuer film job but it gets it done. Just follow the link. These are the only videos I have so just watch them in order you should be just fine.
http://www.youtube.com/user/roadrage212