A few have taken interest in the dash rebuild that I have started and asked me to do some type of write up on the project. I will have more pictures to come I promise, but for now just a quick overview along with my goals for the project.
Enjoy.
It started off with the acquisition of my pioneer deck, this thing has GPS, video in/out, iPod support etc, but it is a double din. I wanted to install that along with giving my car a new look, something a little more up to date. So I did what anyone with time and internet connectivity would do, I started researching fiberglass working.
Some of the sites that helped me are listed below, this is where I got some of my ideas from.
http://www.explorerforum.com/fiberglass ... assing.htm
http://www.the12volt.com/installbay/for ... 74519&PN=1
This gave me the motivation that I needed to start. I was going to start out by scrapping the entire dash and starting from scratch, (wood frame, new mounting points ect.) but after I started framing things up, I found that if I wanted to get done in a timely manner, then I best resort to other means.
I took the original dash, (top half only) and started gutting it, took out anything that wasn't going to be needed, (vents, ducts, extra plastic...) once I had my shell, I took the fleece that I had purchased from the local fabric store and staple it to the under side of the dash to get a good mounting point for the stretching portion to come.
I then mounted the box for my deck I had created, to where the center vents used to be on the dash. ( one of the many parts that I removed)
Then came the fun part, stretching the fleece over the entire dash, and securing it to many, many parts of the dash. Personally, I found that it was useful to pull the fleece rather tight to get that nice curvy feel to it. I used a heavy duty stapler to secure it, I did notice that some of the plastic was somewhat brittle, which caused for issued when securing it and after a bit of trial and error I found easier ways to staple.
I finished the top half first seeing as how my car is at the shop, I wasn't able to mold up the bottom half just yet. After the stretching, I applied the first layer of resin which took about 30 ounces to sufficiently covering the fleece I let it cure for 2 hours and found that it was rather solid.
The next morning I took to sanding it, getting it a bit smoother for the first layer of glass. Applied the glass and let it set. Cutting the glass to shape so that it lays down rather easily was a big help. it took about 18 ounces to do the first layer of glass.
Now I have to sand and wait for my car to be finished so that I can frame up the rest.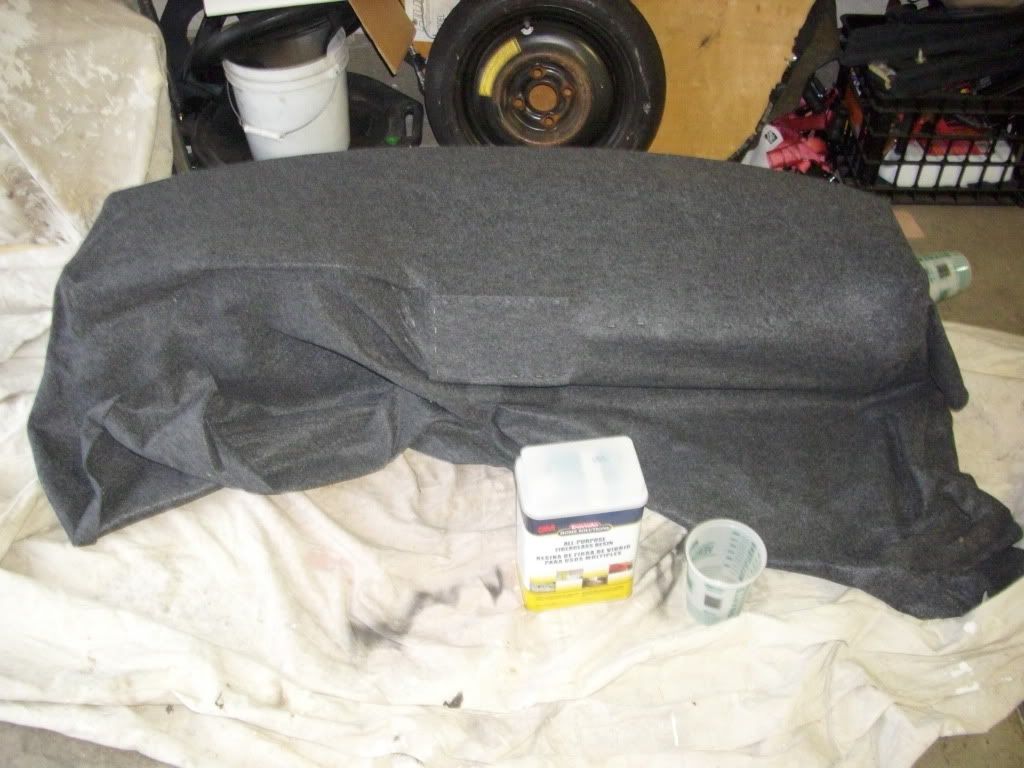 The square area in the center of the dash is where the deck is going, gauge cluster to the left of that, and right above the deck is going to be a tach mounted in some PVC and molded to flow with the dash.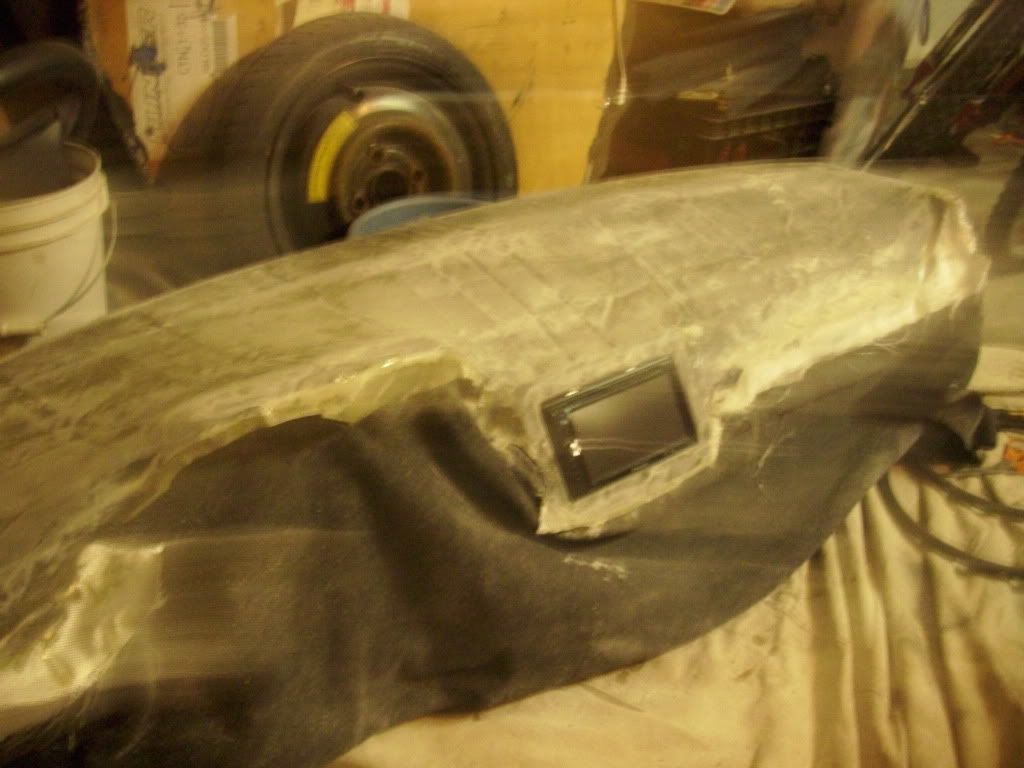 UPDATE
Set it up in the car so I could do the rest of the mock up and center console.
Used some 1/4" by 3" to frame up the center, I then wrapped the remaining fleece over it and resined it up.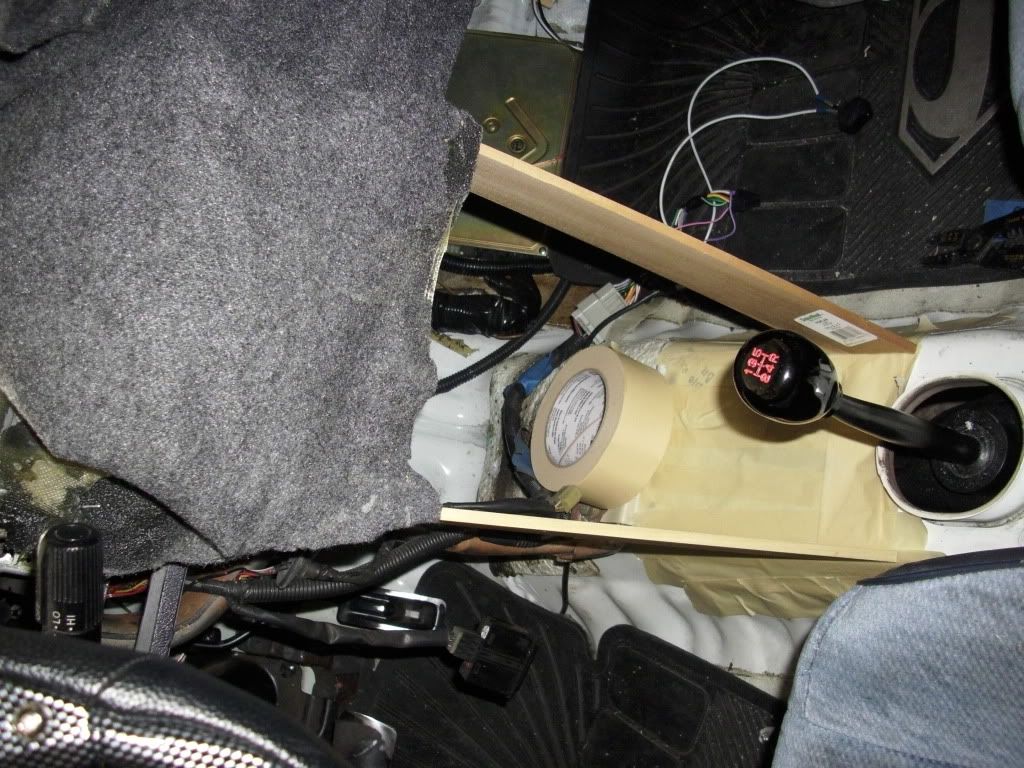 Next... To find a way to take it out so I can fiberglass it up, paint, and sound proof it.