OK so some of you may have noticed that i have not bee around for about a week, but i have been real busy. with this
got a new engine, D16y4 it was out of my mates mum's car, has 82,000Km's on it, the reason i got it was she was rear ended by a school bus and the car was fucked. so me being the generous guy i was offered to have it scraped if i could gut it out
. so i sold the Y1 i had sitting in my garage (which had about 150,000 ish on it and had a bit of a hard life). also got my quad pumper set up.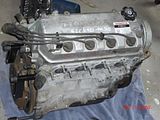 D16y4, this thing is in amazing shape, iv been in the car with jill (my mates mum) and she drives sooo slow its not funny, i don't think this thing would have ever gone over 3000rpm. plus her husband (my mates dad) is a mechanic, so i know that is has been looked after well.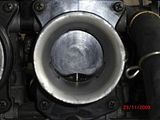 iv re-built and cleaned these things, they are in real good condition, they have about 50,000Kms on them.
thats all i got for now, on the way i have a bisimoto cam and adjustable cam gear as well as some high comp pistons and a 3 layer head gasket. im also going to be doing a bit of engine work and getting a completely new induction kit and ignition system.