Hello everyone!
I bought my first car about 3 weeks ago and have been hanging around here reading topics since then.
First of all I´d like to thank you guys, because I have got a lot of precious information from this forum.. And quite a few laughs too to be honest  :lol:
Anyways, here´s my whip: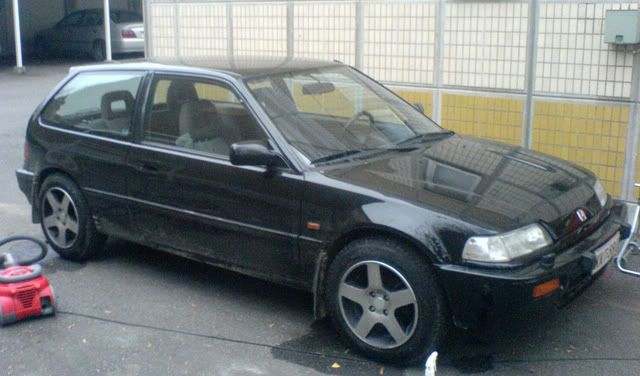 It´s a 88' Civic HB with the D16A9 under the hood. It has almost 400.000 km on the dial, but it´s still in quite good shape. All the rust has been fixed last summer, and at the same time the whole car was painted.
The funny thing is that this car used to belong to my father about 15 years ago, and after that it has had just 2 owners.. My friends mom had it for 9 years before I bought it from her.
The car is going to get some new wheels, suspension and other parts before next summer. Untill that it´s going to stay pretty much the way it is now. I´m adding a small lip to the front and maybe take the current wheels to be painted.
Stay tuned on this one, I´ll add pics and info as progress is made!
Meanwhile, have a nice fall/winter, and I´ll see you around on the forums!
- Kop-O-nen