This is a BIG copy/past!
Picked up this 1989 Civic SI for $1300.00. Not in to bad of shape but needs some love. The motor is fine and runs really good!!! But the body and the interior are to be less desired.
My plans are pretty simple. I want to keep the car nice and clean.
New paint
Re-do interior (all)
JDM front end
Suspension and bushings
Exhaust
I am undecided on the motor at this time. I have never been a SOHC guy, but I have a Z6 head laying around. Maybe a Mini-me or something like that with a little turbo. Keep it simple........... Well on to what I have so far.
Here is what she looked like when I brought her home.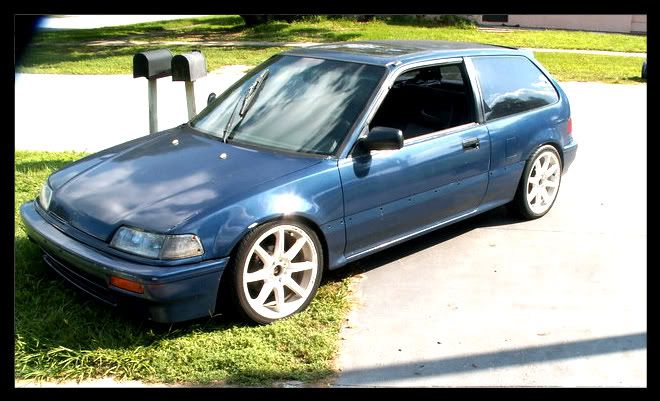 And like always you can never find a good set of seats!!!
Let's get stripping!!!
Ok now for the inside. I like a different center console so I did this....
I am doing all the interior peaces black
I picked up some DA seats not knowing about the 88-89 seats being different!!!
My Z6 head that I will take to the machine shop.
I am trying to save as much as I can so I cleaned the tail lights.
Before:
After:
Before:
After:
Well that's all for now. I am going to work hard to get this done before the year end!!!
Head liner is done and Broadway is here.
Next is the seats. It's been a long time sense I've done seats but o well.
Got my Skunk2 shifter
Played with some v-covers
Cleaned up the head lights
Build my EF back strut bar, but I think I am going to go round tub. I want to build a c-pillar and with the seat belts being on the b-pillar I want to build one of them as well. I just don't think the SQ tub will looks so good on the C and B pillars.
Got my shifter bushings in
Head lights are done
Don't MISS SHIFT!!!
My door was pretty bad so I got another one lastnight.
Started my body work. Found there was some filler here on the side and the tail lights will not line up. So more body work for me!!!